How to Choose A Wood Slab for Your Home or Project
Everyone remembers the first live edge table they saw. For many people, it was also the moment they knew they wanted to add the beauty of a natural wood slab to their home or office décor. And now you might be thinking about doing the same — or even better, taking the leap and about to buy or create your first piece of Live Edge Furniture.
In this Log Blog, we're going to discuss everything you need to know about buying the perfect live edge wood slab, including:
You might be considering a Live Edge Dining Table, a Redwood Live Edge Slab Conference Table, or a Walnut Slab Live Edge Coffee Table. Whatever you decide, it's destined to be something naturally breathtaking, uniquely yours, and totally exciting. Not only are you turning a raw slice of Mother Nature into a functional piece of art, you're giving a majestic tree a second life.
Doing so, though, is an investment — in time and money. And there are LOTS of options to consider, including a wide variety of species, cuts, color, grain, and figure.  
Where to Source Live Edge Slabs
Responsible Sources for Live Edge Slabs
We share an undeniable bond with all of nature — including trees. And because of our innate affinity for trees, most of us can't stand the thought of wasting wood. We want to preserve it anyway we can. So not only do we look to prolong the life of healthy, hearty trees, we strive to only source material for live edge slabs by salvaging downed trees, or reclaiming dead or dying trees — those that otherwise would be forgotten, burned, or left to rot. 
By focusing on trees that are ready to be harvested – those at the end of their natural days – we can give them a second life. Which to most people sounds like an obvious, natural approach. But not everyone, or every company, feels this way. 
Because the honest truth is — you can have a beautiful piece of furniture and feel good about protecting the environment as well.
Finding Live Edge Wood Slabs Near You
Local sawmills. Specialty lumber stores. Even online platforms like Facebook, Etsy, and Craigstlist. There are more than a few places in almost every city or town to find and buy natural wood slabs. In fact, you'll often find live edge slabs being sold outside of traditional lumber supply channels. Which is fine. You just need to be careful — not all unconventional sources maintain the same quality standards you can expect from the hardwood lumber industry. 
The bottom line is you want to be just as informed and cautious about picking the supplier of your wood as you are about the actual live edge slab itself. Reputation counts, so check them out.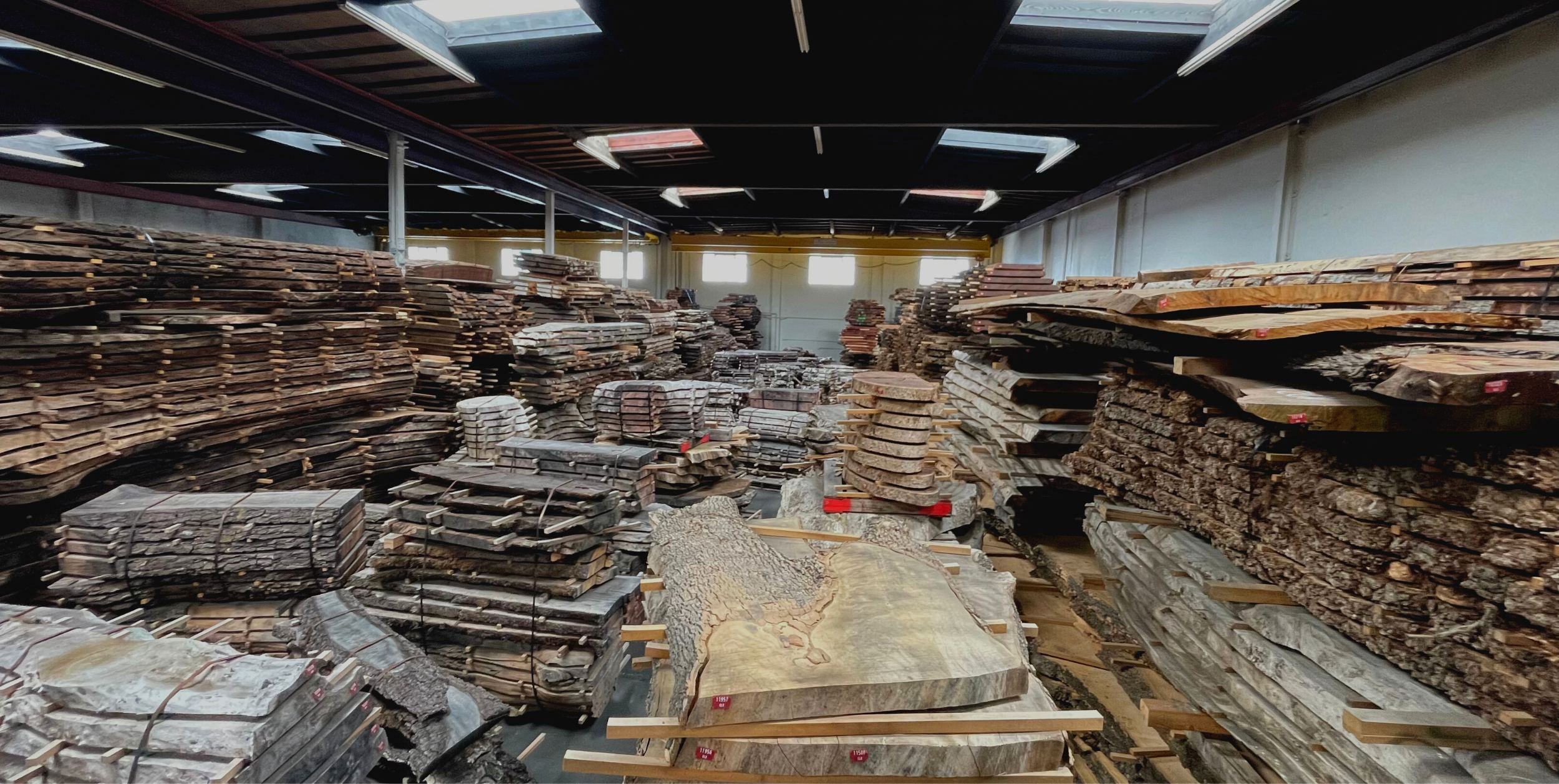 What to Look for in Live Edge Wood
Picking out a live edge slab is really fun. You get to consider shape, color, grain, texture, and even place of origin if you want. Every piece of wood is different, even from the same tree. Which gives you near-endless options to create something spectacular with a live edge wood slab — from coffee tables to kitchen countertops, art pieces to dining room tables.
Air- and Kiln-Dried Wood Slabs
Rule #1: Moisture is not your friend. When working with a live edge slab, moisture in the wood can cause all kinds of problems — warping, twisting, cupping, and splitting. So before you start working with your natural wood slab, make sure it's as dry as it can be. Ideally, this is achieved by releasing the moisture as slowly as possible, not only to have the least amount of impact on the wood, but to cure it to the highest quality possible.
Two factors play important roles in properly dried wood — airflow and temperature. So the best approach for achieving a premium quality slab combines both an air- and kiln-drying process. Frankly, the combo approach is critical. After being milled, a slab should first be air-dried an average of 3 years, allowing the wood to release as much moisture as possible, slowly and naturally. Then the slab needs to be kiln-dried in a temperature controlled environment, one that will reduce even more moisture than natural methods can achieve, elevating the wood to its optimal, most workable state. 
Ultimately, a properly dried slab will guarantee the quality and stability you want for your Live Edge Wood Slab Furniture — now and in the future. 
Make sure your supplier air- and kiln-dries their slabs before you buy one. 
Flattening and Sanding Live Edge Slabs
Not only are milled slabs "rough-sawn" from the log, but during the air- and kiln-drying process they might still experience some degree of "movement" in the grain. So flattening and sanding both sides of every slab is essential to ensure it's a perfectly workable product.
Which means you'll need a router sled, CNC ("computer numerical control"), or a big planer to flatten the live edge slab you choose. Or find a slab supplier, like GL Veneer, that already has all the necessary equipment – and experience – to flatten and sand your wood for you. It'll save you effort, energy, and huge amounts of time. In fact, at GL Veneer that's what we call our single head steel contact drum planer and sander — the "Time Saver Machine." 
Considering Live Edge Slab Sizes
When designing your Live Edge Coffee Table, end table, or shelves, the first things to decide are the size and shape of your final piece. With those proper dimensions in hand, it's best to pick a live edge slab that's a little wider and longer than your design calls for, allowing you to factor in the "clean end" cuts.
The Two Shapes of Live Edge Slabs
Of course, there's another call you have to make too — the fundamental shape of your slab. And choosing that is pretty easy since there are only two "cuts" of live edge slabs to pick from, each having its place in form and function:
Cookie

(or "Round") — A cross-section cut off the ends of a log, creating a "round" circle the width of the tree's diameter. Because the growth rings highlighting the tree's age are on full display in a Cookie, a lot of people really like them. Cookies are also popular because the round, circular shape creates a communal way for people to sit together, giving everyone an equal view of one another. (think: King Arthur's Round Table)



Slab

— A horizontal cut along the length of the log, a Slab will be much longer, showcasing the grain running from the top to bottom of the tree. Slabs are popular for tables, counters, and bars that are designed to accommodate a lot of people – sitting across from one another – or fill a longer, more rectangular space. 
Slabs Steeped in Rich History
While every tree has a story, some live more exciting lives than others. Like a Bastogne Walnut planted by General John Bidwell in the 1800s, a 1000-year-old Redwood root, or a Black Walnut that's been a landmark on a family homestead for 150 years. Every one of them boasts a rich history that run as deep as its roots. If not deeper.
Picking a rare and exotic natural wood slab with a storied past like these examples will make your piece of Live Edge Slab Furniture that much more valuable and unique. Not to mention more interesting, inspiring, and possibly relevant to your design and décor. In fact, giving these types of historical trees a second life will preserve their significance for decades and generations to come. 
Ordering Live Edge Wood Slabs from GL Veneer
For one of the world's largest inventories of live edge slabs, look no further than GL Veneer — your one-stop shop for all types of wood slabs. From freshly milled cuts to flattened and sanded slabs to finished pieces ready for installation, GL Veneer has it all. And you can see every piece in our collection when you take a virtual walk-through of our online live edge slab showroom. 
One quick tour and you'll see why GL Veneer is known as "The Home of Wood." We currently have over 1,000 kiln-dried slabs sourced from 26 different species — all available for purchase. With a wide variety of size options, shapes, and styles to choose from, you're sure to find the perfect live edge wood slab for your next project. Start by checking out our Live Edge Slab Inventory Gallery. Find the slabs you like best, and select our "Reach Out Here," or give us a call. If you're looking for a more effective way to manage your slabs, we highly recommend registering an account with GL Veneer and using our favorite lists – And even converting to a quote for the whole favorited selection.
Once we confirm your slab order, a member of our dedicated, responsive logistics team will arrange safe and fast delivery to your commercial or residential address, and provide you with your final price including the cost of shipping. Whether it's transported by truck, train, ship, or plane, we can ship worldwide with different shipping options. Rest assured that any GL live edge slab will be properly packaged to arrive in perfect condition.